Contact
For all enquiries with regard to the EQ-5D, please contact the EuroQol Research Foundation.
EuroQol Office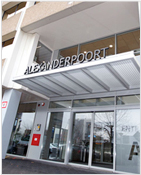 Marten Meesweg 107
3068 AV Rotterdam
The Netherlands
Telephone: +31 884400190
E-mail: EuroQol User Information Service
Chamber of Commerce Rotterdam: 41121799
VAT number: NL8046.79.101.B01
Alexanderpoort building – B entrance
Ask your question
If you have a specific question you can use the form below. We will get back to you as soon as possible.
[contact-form-7 id="5609″]